Kalasy na Palatne Maim (Wheat Ears on My Canvas): an art party from the new sort of LIDSKAE line will be held near Minsk
Drink&Draw art class, during which you can admire a wheat field with paints in one hand and an artistic brush in the other, will be held on July 31 in a picturesque farmstead near Minsk. Participation for all guests is free, with advance registration.
The opportunity to get out not far from the city at the end of July to paint the golden wheat fields in the fresh air during the harvest season is offered by Lidskoe Pivo. You can apply for the event until July 29 11:59 p.m. at pshanichnae0.by. No experience in drawing is needed; the artists of the Minsk Drink&Draw movement will help to create an expressive picture, even for beginners, for whom the event will be the first ever test of a brush. The only thing the organizers request is to sign a kind of manifesto in support of responsible beer consumption right in the form, as well as specify the reasons why it is important for the applicant to take part in the master class. The jury will choose 30 people among those who will do this and invite them to the event.
"Our company stands for moderate consumption, constantly expanding the list of non-alcoholic products. LIDSKAE Nulevachka Pshanichnae non-alcoholic unfiltered beer has become such a novelty of the summer 2021. Every year, Lidskoe Pivo introduces new sorts to consumers, many of which are designed for real beer lovers, reduces the amount of alcohol in its products, develops beer culture through master classes, a competition for bartenders or such unconventional drawing lessons, — the company noted. — For each guest of the art party we prepared brushes, paints, easel — everything that will come in handy for a comfortable cultural evening in the countryside.
The participants will be transferred to the farmstead, 20 km from Minsk, by a pre-arranged bus, and during the trip they will learn more about the peculiarities of the wheat master class in the countryside. Departure from the center of Minsk at about 4:00 p.m. The duration of the wheat art class, including round-trip travel, is about 3.5 hours. The attendees will be able to take their paintings home as a reminder of a pleasant day in a creative company and a way to spend their time in nature in a cultured and modern way.
For information:
LIDSKAE Nulevachka Pshanichnae is a new non-alcoholic sort from Lidskoe Pivo JSC with a bright taste of unfiltered beer with distinctive notes of spices and citrus fruits. Thanks to the use of wheat malt and almost complete absence of alcohol, the product allows you to experience the full taste of wheat beer in any situation.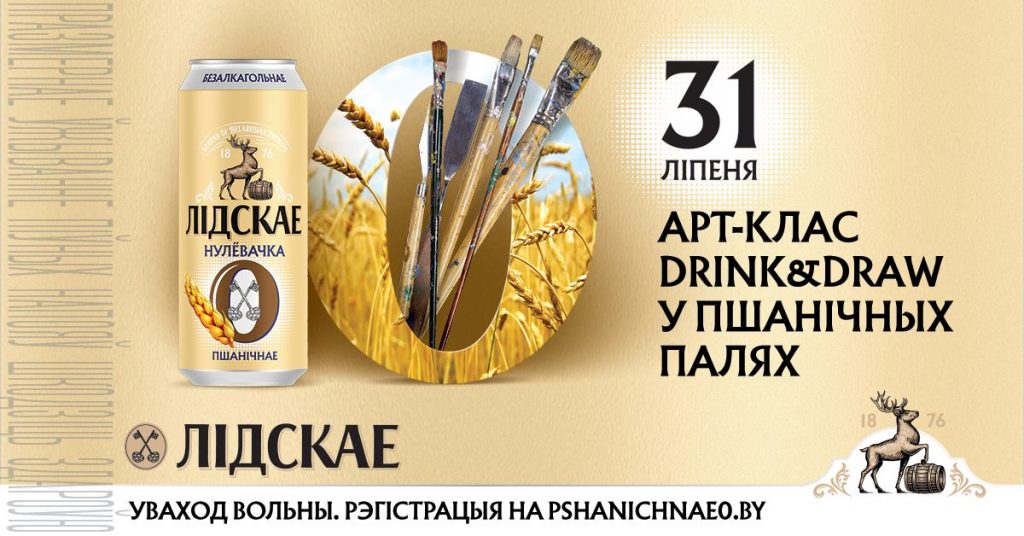 SUBSCRIBE TO OUR NEWSLETTER