General Dictation 2020 beats record: over 1600 people from different parts of the world have already registered for the project
The format of General Dictation, the annual project of Lidskoe pivo, is changing. This year the project will be held online and will be a charity event. At the moment, a record number of 1602 participants plan to write a dictation. Minsk is the leader in the number of people who want to test their level of Belarusian language. There are registrations from cities in the USA, Canada, Poland, Czech Republic, France, Germany, Turkey, Estonia, Austria, Belgium, Russia and Ukraine.
It should be recalled that this year JSC "Lidskoe pivo", the organizer of the initiative, will transfer 5 BYN for each participant to help doctors who fight against COVID-19, as well as an additional amount of money for everyone who receives 9 and 10 points based on the dictation results. Registration is opened until June 4.
The dictation may already be considered Belarus-wide. Most applications were received from the Minsk region, Grodno is in second place, and Brest and Vitebsk are in third place. The organizers invite participants from the Mogilev and Gomel regions to write a dictation as well, to test their knowledge and to make a personal contribution to the fight against COVID-19 at the same time. Everyone will be able to sit behind a virtual desk on Saturday, June 6 at 12:00. On this day, all registered participants will be asked to write a text composed by Maria Titarchuk. Alexander Ilyin, vocalist of a popular Belarusian band NIZKIZ, will be reading the text.
Join to become a part of the project uniting Belarusians! Registration is over in 7 days.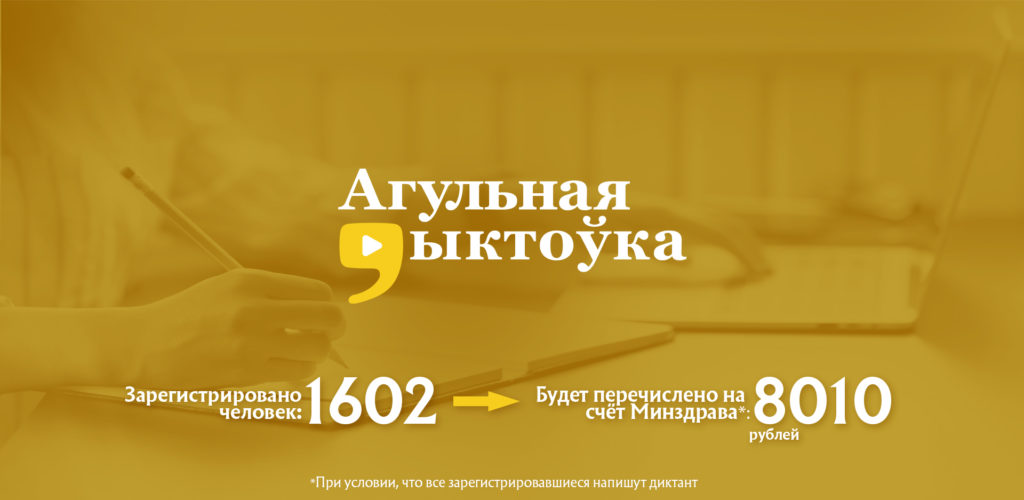 SUBSCRIBE TO OUR NEWSLETTER