Total Dictation in Belarusian language to take place in Minsk again
On Saturday, June 2, Total Dictation will take place in the National Library in Minsk. Everyone will be able to check their literacy and write a dictation in Belarusian language. JSC "Lidskoe Pivo" once again became the ideological organizer of the event.
Lidskoe Pivo continues to support development of the Belarusian language. With the help of this educational project, which gathered over 170 people, including regional citizens, the last year, we strive to inspire people to expand their use of Belarusian language, see its beauty and be inspired by it.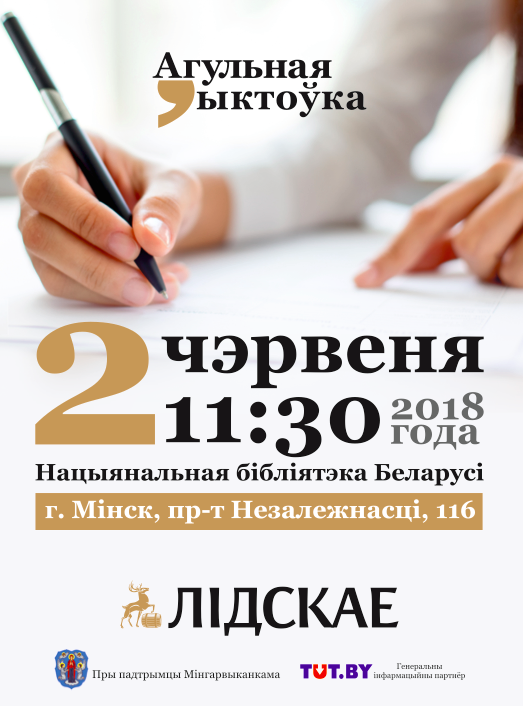 Natalia Efimkina, Corporate Communications Manager of JSC "Lidskoe Pivo", says: "This year, Total Dictation acquires a national status. The broadcast on the First Channel of the National radio, in addition to the internet broadcast, will be organized for everyone who wouldn't be able to come to Minsk due to some circumstances."
Each participant shall:
1. Register at www.lidskае.by.
2. Come to the National Library of Belarus not later than 11.30 (entrance from the side of the "Yavor" (ex-Megapolis) restaurant, 2nd floor), Nezavisimosti Avenue, 116.  
3. (Alternatively) Tune in to the internet broadcast from home.
The dictation will begin at 12.20 and end at 13.20. The organizers have stuck to the traditions and prepared a special text. This year, the text will be dedicated to the 400th anniversary of the first Belarusian primer. It will be read by Rusia – singer, Belarusian dubbing actor, voice of the Belarusian Railroad and voice coach.
After the dictation, the participants can visit a special zone to play Belarusian board games and take photos.
Works of Minsk citizens will be checked by professional philologists. The results will be announced within 5 workdays. All participants will get their results and electronic certificates of participation via e-mail. The original text will be posted on the site.
See you at the Total Dictation!
June 2, 2018
The National Library of Belarus
(Entrance from the side of the "Megapolis" restaurant, 2nd floor),
Nezavisimosti Avenue, 116
Event schedule:
11.30 — 12.00 — registration of participants
12.00 — 12:20 — formal opening
12:20 — 13.20 — dictation
SUBSCRIBE TO OUR NEWSLETTER