Everything for the loved ones! Lidskoe Pivo will distribute 2000 branded masks to visitors of Zimovy Fest in Grodno
Lidskoe Pivo, a part of the Olvi PLC international holding, will take care of the visitors of the Christmas fair in Grodno, providing them with relevant gifts. As a general partner of Zimovy Fest, the company will distribute 2000 masks to the visitors to make the event even safer.
On December 12 and 13, from 3 p.m. to 7 p.m., the visitors of Zimovy Fest will have an opportunity to receive a free branded mask from Lidskoe Pivo. Representing a socially responsible business environment, the company will make sure that the visitors and participants of the Christmas fair feel the atmosphere of the upcoming holidays as safely as possible. All locations are provided with sanitizers, tables are arranged in a way that the visitors maintain the necessary social distance, and the fair staff works strictly in masks and gloves. According to the organizers, these measures will help the visitors feel the atmosphere of the holidays and buy everything they need to celebrate the New Year in the safest conditions possible.
To receive a free mask from the LIDSKAE brand, the visitors of Zimovy Fest only need to contact the promoter wearing a branded vest. By the way, this is not the first similar initiative of Lidskoe Pivo. In spring, the LIDSKAE brand distributed 5000 free masks in the capital's malls and at the Komarovsky Market.
For information: Zimovy Fest is an event organized in the style of European Christmas fairs, which will be held in the center of Grodno from December 11 to January 17. Several locations at once will be available to the visitors of the fair: a winter market with goods from Belarusian craftsmen, a heated recreation area with a food-court, and a large Christmas tree, which will become the center of activities. The organizers promise to surprise the visitors with unusual mulled wine made following a special recipe. The range includes 2 original varieties at once: alcoholic mulled wine made with LIDSKAE Zimovae beer, and non-alcoholic one made with Lidski Zimovy kvass.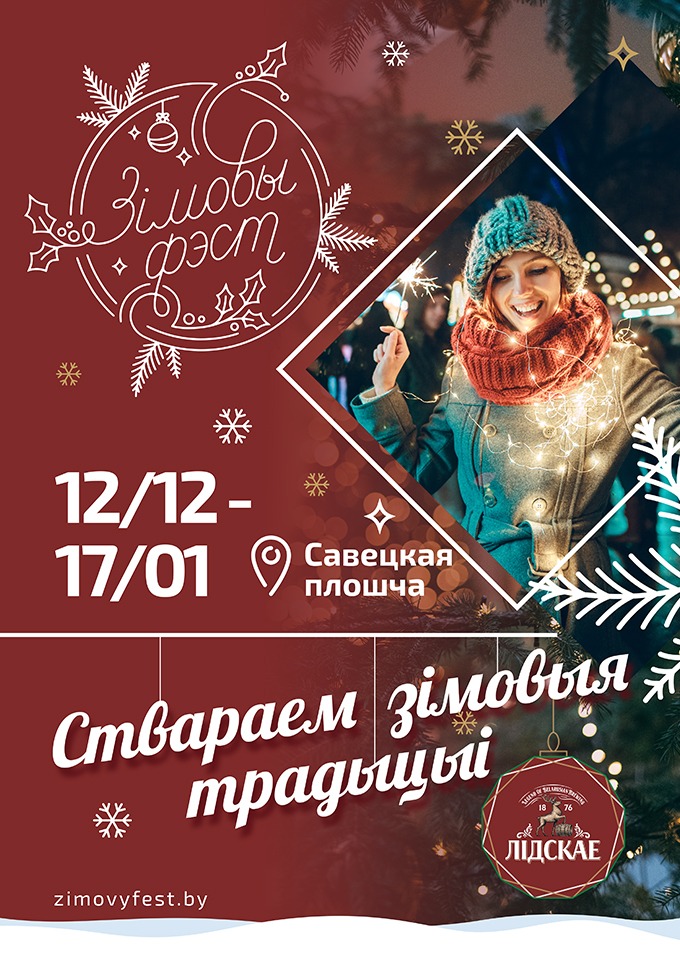 SUBSCRIBE TO OUR NEWSLETTER