Lidskoe Pivo launches a distribution business line and expands its portfolio with Bernard premium beer
Olvi Group private concern represented by Lidskoe Pivo launches a new distribution business in Belarus. Bernard Celebration Lager and Bernard Dark Lager, super premium unpasteurized Czech beers, will be the first products presented under the new direction.
The new initiative is a logical continuation of the direction chosen by the concern in 2018. Two years ago, the private Finnish group Olvi, which incorporates Lidskoe Pivo, acquired a controlling stake in Servaali, a Finnish distributor of imported brands of beer and wine. Thus, Olvi Group obtained the right to represent such well-known brands as Chimay, Shepherd Neame, Pilsner Urquell, Miller, Beck's, Samuel Adams, etc. on the Finnish market. It is possible that in the future they will also expand the portfolio of Lidskoe Pivo.
At the moment, Lidskoe Pivo is starting to build up its super-premium product portfolio. The new distribution line in Belarus starts with the market launch of Bernard Czech beer.
Bernard Celebration lager and Bernard Dark lager, varieties of unpasteurized beer with a special taste and aroma, will be the first to be presented in Belarus. Celebration lager contains yeast, which can make the beer cloudy, sediment can be formed, and the beer is fermented in the bottle, providing a unique taste.
Bernard Dark lager contains four types of malt and has a taste with a fine bitterness (IBU 20-25), which makes this variety special and distinctive even in the diverse Czech market.
Alcohol content in both varieties is 5%. The beer will come in the market in 0.5 L glass bottles. Recommended price is 6.50 BYN
The history of the Bernard brewery is almost 425 years old. It was founded in 1597 in the town of Gumpolds (Humpolec), and in 1991 it was acquired by Stanislav Bernard, Rudolf Šmejkal and Josef Vávra. The new owners invited the best masters and decided to produce unpasteurized beer, which soon began to stand out on the Czech beer market with its distinctive bitterness. In 2001, the brewery formed an alliance with the Belgian company Duvel Moortgat, which now owns 50% of stocks. Today the family brand Bernard is known all over the world. The beer is exported to over 25 countries.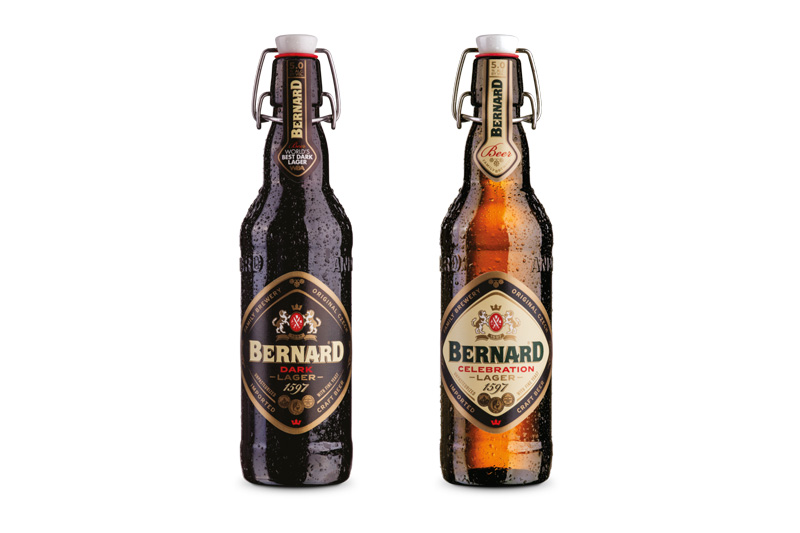 SUBSCRIBE TO OUR NEWSLETTER