LIDSKAE Premium outflanked competitors from 100 countries at the prestigious international competition in Belgium
One of the most awarded varieties of Lidskoe pivo won a gold medal at the prestigious international competition Monde Selection (Belgium). 12 eminent tasters distinguished LIDSKAE Premium among competitors from more than 100 countries.
The international competition Monde Selection has been held in Brussels since 1961 and is significant for manufacturers of beverages, food and cosmetics. Despite the unfavorable epidemiological situation, this year was no exception. Over 3200 products from around the world were presented to be evaluated by the experts of the International Quality Control Institute. For Lidskoe pivo, which collected more than 140 different awards, the medal of this competition was the first.
LIDSKAE Premium was evaluated by the independent jury by 20 parameters. The product was evaluated by brewers, technicians, chemical engineers, as well as biotechnologists and experts in the field of food sciences.
LIDSKAE Premium is a light lager with a soft malt flavor. It is produced using an advanced bottom fermentation technology with a special yeast race. It has been in the manufacturer's product series since 2009. Back then, this variety became the first original product created by the joint efforts of the Belarusian technologists and experts from the Finnish concern Olvi. Today, the variety is one of the key representatives of the LIDSKAE series which expresses the uncompromising commitment to quality of Lidskoe pivo.
The variety won many awards, including the Crystal Taste Award. Only brands that have won the Superior Taste Award for three years can receive this award.
In March 2020, LIDSKAE Premium, as well as all varieties of the Lidskoe pivo award-winning brand, had its design updated. Since then, the variety has been presented in a new format, the original bottle with embossing of a premium label. The updated design of the product emphasizes the locality of the variety origin, while its recipe remains unchanged.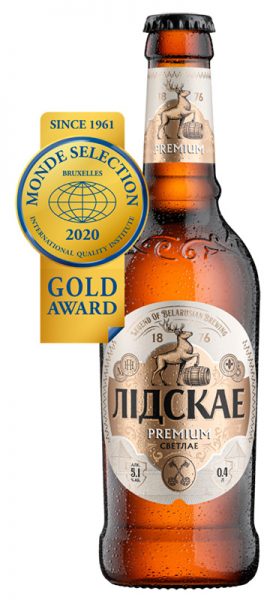 SUBSCRIBE TO OUR NEWSLETTER